Clojure conference in Germany
:clojureD is the biggest annual Clojure conference in Germany. It's a non-profit conference from the Clojure community for the Clojure community. Software developers from all over the world meet in the cosmopolitan city of Berlin to share new, amazing and mind-blowing ideas and techniques using Clojure and functional programming.
Summer Beach Camp – Time to meet again!
After two years without meeting the community in real, this year's special summer beach camp will focus on having a really good time together.
Besides of exciting talks there will be space, time and activities to have thrilling exchanges, chats and fun.
And if that's not enough, :clojureD is also framed by a pre-conference welcome meet up before and a get-together right after the conference.
For the latest news, some chit-chat or when feeling somewhat lonesome, please visit :clojureD's Twitter or Slack channel.
Venue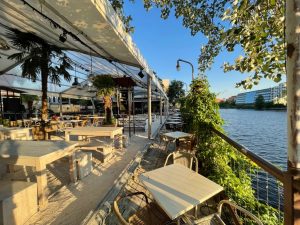 In 2022 :clojureD will happen at the beach area of Sage , a great and special location, right in the heart of Berlin.
Getting there should be really easy for whatever type of transport you prefer. Since Berlin's Ostbahnhof and several bus and train stations are very close by, arriving by public transport is quite convenient.

Address:
Koepenicker Str. 18 - 20, 10997 Berlin
Code of Conduct
Be nice, welcoming and respectful.
We all want :clojureD to be a fun and fruitful event for everyone, regardless of their gender, sexual orientation, disability, physical appearance, body size, race, or religion.
To ensure this :clojureD uses the Berlin Code of Conduct.
We will not tolerate harassment of any form at the conference. If you witness intolerable behavior please let us know: