29 February 2020 in Berlin
Ticket sale starts October 2019
Clojure conference in Germany
:clojureD is the biggest annual Clojure conference in Germany. It's a non-profit conference from the Clojure community for the Clojure community. Software developers from all over the world meet in the cosmopolitan city of Berlin to share new, amazing and mind-blowing ideas and techniques using Clojure and functional programming.
You don't go to a conference just for the talks, but also for meeting people. Exciting people you've never met or dear fellows you see far too seldom. That's why breaks during the conference and a spacious but warm and welcoming venue offer various opportunities to have thrilling chats and share a good time together. And if that's not enough, :clojureD is also framed by a pre-conference welcome meet up before and a get-together right after the conference.
For the latest news, some chit-chat or when feeling somewhat lonesome, please visit :clojureD's Twitter or Slack channel.
One day? Two days? Even four?! Your choice!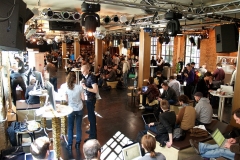 In 2020 :clojureD will happen at Kalkscheune, a great location, right in the heart of Berlin.
Getting there should be really easy for whatever type of transport you prefer.
Address:
Johannisstrasse 2, 10117 Berlin
Be nice, welcoming and respectful.
We all want the :clojureD Berlin to be a fun and fruitful event for everyone, regardless of their gender, sexual orientation, disability, physical appearance, body size, race, or religion.
To ensure this :clojureD uses the Berlin Code of Conduct.
We will not tolerate harassment of any form at the conference. If you witness intolerable behavior please let us know: